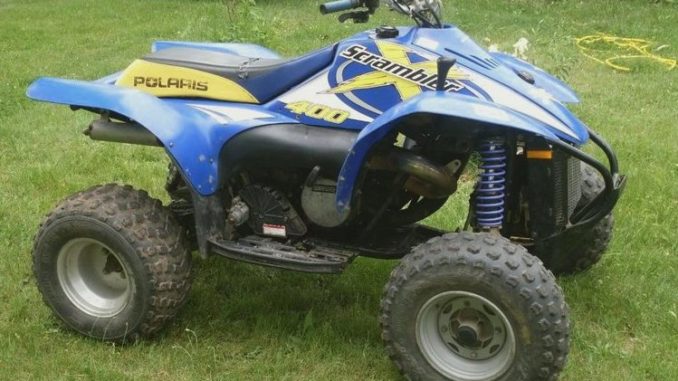 A downloadable Polaris Scrambler repair manual is a transferable electronic version of a printed book containing instructions on how to fix or mend the all-terrine vehicle back to working order. The Polaris Scrambler repair manual, also termed online factory service manual, includes complete maintenance, tune-up, servicing and repair information. The digitally delivered book of repair instructions also incorporates advanced troubleshooting guides to aid the mechanic in the process of tracing and correcting faults in the Polaris Scrambler's mechanical or electrical system.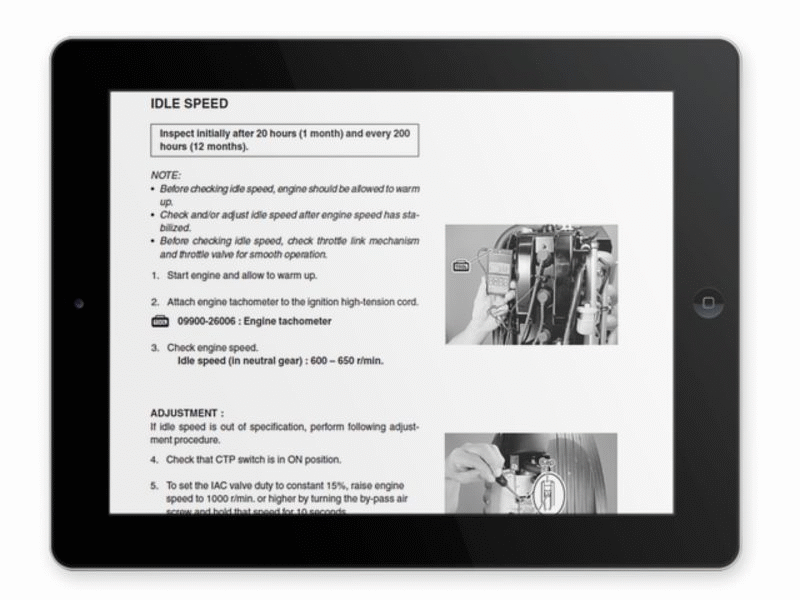 An electronically transmitted Scrambler repair manual is virtually identical to a printed book you'd find in a Polaris dealership repair shop. It contains a preface, table of contents, main chapters containing step-by-step repair information, as well as an appendix. Pictures and illustrations are scattered throughout the book to help the mechanic complete the repair work successfully. Here's a list of main-chapters and sub-chapters typically found in a Polaris Scrambler repair manual (actual topics may vary depending on year and model):
General Information
Scrambler model identification

Scrambler serial number location
Scrambler replacement keys
Publication numbers
Paint codes
Scrambler specifications
Special tools
Standard tightening torque specifications
Tap drill charts
Decimal equivalent chart
Unit of measure conversions table
Glossary of terms
Engine
Torque specifications

Special tools required

Torque patterns

Piston identification chart

Cooling system pressure testing

Cooling system specs

Engine removal and installation

Cylinder honing

Crankshaft runout checking

Oil pressure test and engine lubricant

Oil pump priming procedure

Lubrication and oil flow diagrams

Exploded view of engine

Top end engine disassembly and assembly

Valve seat service

Cylinder head disassembly and assembly

Engine bottom end disassembly and assembly

Crankcase and bearing assembly

Crankshaft end play measurement and checking

Counter balancer end play inspection

Oil pump shaft end play inspection

Engine cleaning, inspection and assembly

Recoil disassembly and inspection

Recoil assembly

Spark plug fouling checklist

Cooling system bleeding

Troubleshooting
Final Drive
Drive torque specifications

Front hub exploded view

Front hub removal, disassembly and assembly

Front hub installation

Front hub/bearing

Hub seal replacement

Magnetic coil service

Hillard clutch disassembly and inspection

Armature plate inspection

Front drive axel removal and install

Front CV join boot replacement

Front drive axle exploded view

Struct casting sleeve replacement

Front prop shaft removal

U-joint disassembly

U-joint assembly

Front housing disassembly and assembly

Front housing installation

Front housing exploded view

Rear axel servicing
Electrical System
Alternator exploded view

Special tools required

Electrical system information

Timing check procedure

ECM operation

Hot light operation

Fan operation and testing

Fan ECM bypass test

Fan motor current draw test

Temperature sensor tests

ETC system operation and test

DC CDI ignition system testing

Cranking output test

Reverse limiter wiring diagram

Reverse limiter troubleshooting

Charging system testing

Headlight and brake light service

Starter system testing and troubleshooting

Starter motor service

Starter drive

Wiring diagrams
Brakes
Brake specifications

Torque specifications

Front brake servicing

Rear brake servicing
Maintenance
Scheduled maintenance charts

Lubricant and maintenance part numbers

Pre-ride check

Lubrication points and charts

Front gearcase lubrication

Transmission lubrication

Transmission linkage adjustment procedure

Throttle operation and choke adjustment

Carburetor tune-up and adjustments

ETC switch operation (if equipped)

Fuel system maintenance

Compression pressure testing procedure

Battery charging and maintenance

Electrical system maintenance

Coolant system maintenance

Air filter and air box sediment tube servicing

Breather filter maintenance

Recoil housing maintenance

PVT drying

Engine oil and oil filter change

Valve clearance measuring and adjustment

Steering and toe alignment

Front hum maintenance (all wheel drive AWD models)

Exhaust system maintenance

Brake system service

Drive chain and sprocket service

Suspension service

Tire and wheel removal and install

Tire and wheel inspection
Fuel System
Exploded new carburetor

Fuel tank assembly exploded view

Fuel flow diagram

Jetting guidelines

Special tools required

Carburetor jetting

Part numbers: main jet and pilot jet

CV carburetor system (4 cycle models)

Pilot screw information

Carburetor disassembly and cleaning

Carburetor assembly and installation

Carburetor inspection procedures

Carburetor tuning

Float adjustment

Needle and seat leakage test

Pilot screw and fuel level

Fuel pump service

Fuel system troubleshooting
Body And Steering
Torque specs and special tools required

Body assembly and exploded view

Steering assembly and exploded view

A-arm replacement

Concentric swing arm removal, disassembly

Concentric swing arm cleaning, assembly, install

Rear swing arm weldment

Strut assembly exploded view

Front strut weldment replacement

Front strut ball join replacement

Steering post assembly

Decal replacement
Clutching
Service tools and supplies required

PVT system operating and maintenance

PVT system inspection and disassembly

PVT system assembly, sealing and ducting

Drive clutch exploded view

Drive clutch spring specs

Shift weights

Drive clutch inspection

Drive clutch disassembly and checking

Drive clutch assembly and install

Drive belt tension, removal and inspection

Drive belt install

Clutch offset and alignment

Drive clutch disassembly and inspection

Driven clutch assembly

Driven clutch bushing service

Troubleshooting
Transmission
Torque specifications

Transmission removal and installation

Transmission exploded view

Transmission disassembly and reassembly

Transmission troubleshooting
A Polaris Scrambler four-wheeler repair manual can be downloaded to a computer, tablet or smart phone. However, for best viewing experience, it should be downloaded to a computer or tablet. The manual is in Portable Document Format (PDF). Therefore no special software is needed to download and view the manual. Once the manual is downloaded you can save it to your downloads folder or desktop forever. You can even burn it to a CD or transfer it to a thumb drive. Polaris Scrambler manual.
References
Admin. "DOWNLOAD Polaris Scrambler 850 Repair Manual." 911 Manual, 23 Apr. 2019, https://www.911manual.com/polaris-scrambler-850-repair-manual/.