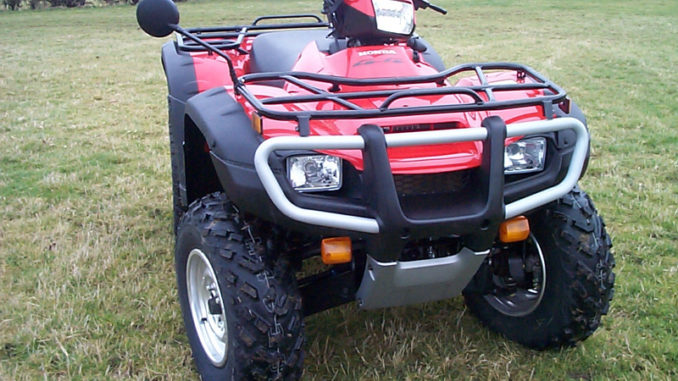 If the Honda TRX500 Foreman Rubicon won't start and being to work, or if the four-wheeler has a hard time starting up, use the following troubleshooting guide to pinpoint the cause of the starting problem.
1. Does fuel reach the carburetor?
If fuel is not reaching the carburetor, check for a clogged fuel line or strainer, faulty fuel valve or clogged fuel tank breather hose. If fuel is reaching the carburetor, check spark plugs.
2. Spark plug inspection.
Remove the spark plug and to see if the spark plug is wet. If the spark plug is wet, check for one or more possible malfunctions:
Flooded carburetor

Throttle valve open

Dirty air cleaner

Improperly adjusted pilot screw

Starting enrichment (SE) valve stuck open or damaged
If the spark plug is not wet, does it have spark?
3. Spark test.
Perform a spark test. If there is no spark or the spark is weak, check for one or more possible malfunctions:
Faulty ignition switch


Faulty engine control module (ECM)

Faulty spark plug


Loose or disconnected ignition system wires

Broken or shorted spark plug wire


Faulty ignition pulse generator


Faulty ignition coil


Faulty engine stop switch


Fouled spark plug

If spark is good, check engine starting condition.
4. Engine starting condition.
Attempt to start the engine following the normal operating procedures outlined in the owner's manual. If the engine starts up but then stops or stalls, check for one or more possible malfunctions:
Contaminated fuel

Improper SE valve operation

Leaking carburetor insulator


Incorrectly adjusted carburetor

Improper ignition timing (Faulty ECM or ignition pulse generator)

If all components are in good working order, check cylinder compression. Be certain you adjust idle rpm. 
5. Cylinder compression.
Test cylinder compression pressure. If the compression is too low, check for one or more possible malfunctions:
Improper valve timing

Valve clearance too small

Valve stuck open
Worn cylinder and piston rings

Damaged cylinder head gasket

Seized valve
Use the above mentioned troubleshooting guide if the TRX500 won't start. These procedures are also outlined in the factory service manual. It's recommended to download the factory service manual when performing service, repair and maintenance to the all-terrine vehicle. Repair manuals can be downloaded from this site.
These troubleshooting procedures apply to: 2005 2006 2007 2008 2009 2010 2011 2012 Honda TRX500FA FourTrax Foreman Rubicon, TRX500FGA FourTrax Foreman Rubicon GPScape, TRX500FPA FourTrax Foreman Rubicon GPScape Power Steering, TRX500, TRX 500 models.