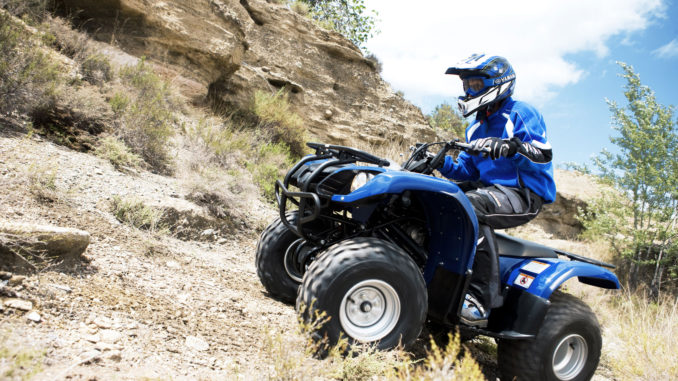 A downloadable Yamaha Grizzly repair manual is a digitally delivered book of repair instructions for learning how to service, maintain, troubleshoot and overhaul the complete off-road all-terrine vehicle. It's a handbook in Portable Document Format (PDF) that provides electronic text, graphics and images that looks like a printed paperback Yamaha Grizzly repair manual you'd obtain in a store.
Yamaha Grizzly repair manuals, also termed Yamaha Grizzly online factory service manuals, are instructional books that cover every aspect of repair, from doing a simple oil change to complete engine overhaul—these manuals cover it all.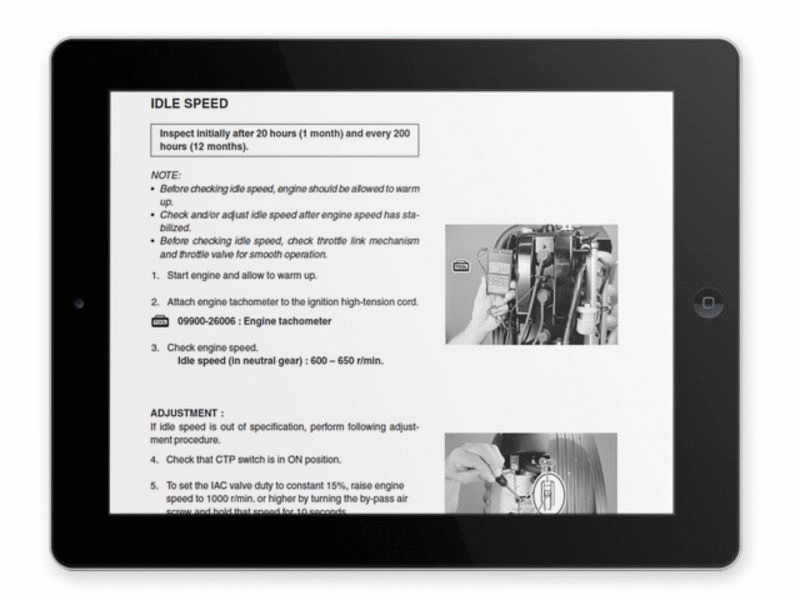 As with any traditional repair manual, a Yamaha Grizzly service manual is divided into chapters for the main categories of subjects, followed by a subsection and easy-to-follow step-by-step repair procedures. All Grizzly repair manuals contain high-quality photos, illustrations and diagrams to ensure the mechanic completes the repair work successfully. Here is a small list of topics generally found in a Yamaha Grizzly repair manual (actual subjects will differ depending on year and model ATV):
General Information
Vehicle Identification Number
Model Label
Preparation for Removal Procedures
Replacement Parts
Gaskets, Oil Seals and O-Rings
Lock Washers/Plates and Cotter Pins
Bearing and Oil Seals
Circle Clips
Checking of Connections
Special Tools
Maintenance and Adjustments
Introduction
Periodic Maintenance and Lubrication
Fender and Fuel Tank

Front Fender
Rear Fender
Fuel Tank

Engine

Valve Cover Clearance Adjustment
Timing Chain Tensioner Adjustment
Idle Speed Adjustment
Throttle Cable Free Play Adjustment
Speed Limiter Adjustment
Air Filter Cleaning
Clutch Adjustment
Engine Oil Replacement
Engine Oil Inspection
Compression Pressure Measurement
Ignition Timing Check
Spark Plug Inspection

Chassis

Front and Rear Brake Lining Inspection
Front Brake Adjustment
Rear Brake Lever and Pedal Adjustment
Wheel Inspection
Tire Inspection
Rear Shock Absorber Adjustment
Drive Select Lever position Adjustment
Front and Rear Shock Absorbers Inspection
Final Drive Gear Oil Level Inspection
Toe-in adjustment
Drive Shaft Dust Boot Inspection
Steering System Inspection

Electrical

Battery Inspection
Fuse Inspection
Headlight Beam Adjustment
Headlight Bulb Replacement
Fuel System
Carburetor

Removal
Disassembly
Assembly
Installation
Fuel Level Adjustment
Troubleshooting

Fuel Injection System
Chassis
Front Wheels and Front Brake
Rear Wheels and Rear Brake
Rear Axle
Steering System
Front Shock Absorber and Front Arm
Rear Shock Absorber and Swingarm
Electrical
Wiring Diagrams
Electrical Components

Switch Inspection
Checking of Bulbs
Ignition System
Circuit Diagram
Starting Circuit Operation
Troubleshooting
Starter Motor
Starter Motor Inspection
Starter Motor Assembly

Charging System

Circuit Diagram
Troubleshooting

Lighting System

Circuit Diagram
Troubleshooting
Lighting System Check

Signal System

Circuit Diagram
Troubleshooting
Signal System Check
Specifications
General Specifications
Maintenance Specifications
Engine Specifications
Chassis Specifications
Electrical Specifications
Conversion Table
General Torque Specifications
Lubrication Points and Lubricant Types
Lubrication Diagrams
Cable Routing
Engine
Engine Removal
Engine Disassembly

Cylinder Head Assembly
Cylinder and Piston Assembly
Starter Pulley CDI Magneto
Recoil Starter
Valve
Cylinder HeadPrimary and Secondary Clutches
Balancer Driven Gear
Balancer ShaftCrankcase (Left)
Oil Pump and Shifter

Inspection and Repair

Cylinder Head
Intake and Exhaust Valve
Valve Guide
Valve Seat
Valve Spring
Valve Installation
Cam Shaft
Crankcase
Bearings and Oil Seals
Oil Pump
Secondary Clutch
Primary Gears and Starter
Balancer Drive Gear and Driven Gears
Crankshaft
Piston Ring and Piston Pin
Tappet Cover and Cam Sprocket Cover
Timing Chain Tensioner
Timing Chain Guide
Cam Sprocket
Cam Drive Sprocket
Timing Chain
Rocker Arm and Rocker Arm Shaft

Engine Assembly and Adjustment
Drive Train
Middle Gear Service

Middle Gear
Middle Gear Shims
Removal
Disassembly
Inspection
Middle Gear Shim Selection
Assembly
Middle Gear Lash Adjustment
Installation

Final Drive Gear and Drive Shaft

Troubleshooting
Removal
Disassembly
Inspection
Final Drive Pinion Gear
Ring Gear Shim Selection
Assembly
Final Gear Gear Lash Measurement
Final Gear Lash Adjustment
Installation
Troubleshooting
Engine Will Not Start
Engine Hard to Start

Fuel System Troubleshooting
Electrical System Troubleshooting
Compression System Troubleshooting

Poor Idle Speed Performance
Poor Medium and High Speed Performance
Faulty Gear Shifting
Hard Shifting
Clutch Slipping
Overheating
Faulty Brake
Shock Absorber Malfunction
Unstable Handling
Lighting System
All manuals contain advanced troubleshooting procedures. Troubleshooting is a method for tracing and correcting faults in a Yamaha Grizzly machine. It's especially helpful to backyard mechanics or persons with little mechanical knowledge. These manuals were primarily produced by the manufacturer to assist Yamaha dealer technicians and qualified mechanics. It's assumed that anyone using a download repair manual has a basic understanding of mechanical ideas and the process of machine repair. Never attempt to service or repair your all-terrine vehicle without a repair manual handy. Yamaha Grizzly 125 repair manual.