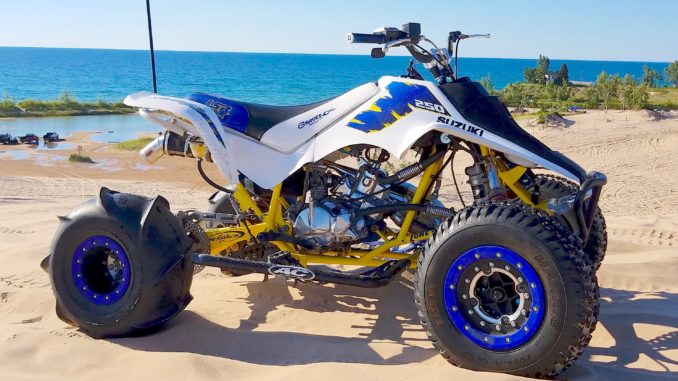 For any person who owns a Suzuki 250 All-Terrain Vehicle, or ATV as it is popularly known, it is inevitable that at some point, the vehicle will require servicing or the replacement of parts. The servicing may be done by a professional at a service dealership. However, such a service does not come cheap and will put a big hole in your pocket. If you are a practical and hands-on service, you can service and fix your Suzuki 250 all-terrain vehicle with the help of an ATV manual. This brings us to the question of what an Suzuki 250 ATV repair manual is.
Models Covered in This Manual
| | |
| --- | --- |
| Model | Year |
| LT250S Quad Sport | 1985 thru 1990 |
| LT250R QuadRacer | 1987 thru 1992 |
What is a Suzuki 250 ATV repair manual?
In most cases, when you buy a new appliance or gadget, it is accompanied by a manual. The purpose of the manual is to show you the different components that the appliance/gadgets consist of. It should then come as no surprise that Suzuki 250 ATVs come with repair manuals. The purpose of the repair manual is to give you a detailed information about your Suzuki 250 ATV and how you can repair it on your own.

Most of the Suzuki 250 ATV repair manuals were designed and written for the hands-on kind of people. They show you a step-by-step guide on how to conduct a simple service maintenance of your vehicle or how to carry out a full disassembly of the vehicle. The Suzuki 250 ATV manual allows you to maintain and repair your vehicle. It transforms you from being just an ATV owner into someone who has in-depth knowledge on how to repair his/her vehicle.
Benefits of Suzuki 250 ATV repair manuals
There would be no need to own an Suzuki 250 quad racer/quad sport repair manual if there were no real benefits associated with its ownership. Here are some of the benefits of owning an ATV repair manual:
Some of the ATV repair manuals are not only designed for the experienced ATV technicians but also for enthusiasts or do-it-yourselfer. This allows you to read and interpret the manual as it is written using simple terminology that you can understand even though you are not an ATV technician.

The manuals have detailed pictures and a step-by-step guide that shows how you can easily fix or repair your vehicle.

You can save money by servicing your own machine. An ATV technician may charge you a lot of money to service, repair, and fix your vehicle.
Who needs an ATV repair manual?
It goes without saying that any person who owns an ATV requires a repair manual. This helps you to fix and troubleshoot your vehicle without needing any third party help. Besides, any Suzuki 250 ATV repair manual should be a part and parcel of your toolbox. Even if you are not going to repair your vehicle yourself, it will come in handy for the person who will undertake the task of servicing your vehicle.
Where to find a Suzuki 250 ATV repair manual?
When you buy your vehicle, it comes with its own factory manual. This manual is technically detailed and geared for the experienced technician. If you have lost your original manual, you can download the manual you require here. You can also find an ATV repair manual for your vehicle written by a third party. In this case, a third party refers to any person that is neither you nor the manufacturer of your ATV. You can find these manuals on the internet and you may have to pay some money to acquire them.
Final words
It is clear that as a Suzuki 250 all-terrain vehicle owner, you need an ATV repair manual. The ownership of the manual is for your own benefit. It helps to easily and timelessly repair and service your vehicle. When your vehicle is well serviced and maintained, it performs better and lasts longer.
Also, keep in mind that you do not need to be a professional to understand and interpret an ATV repair manual. The manual is written in everyday language that any person may easily understand. The manual is comprehensive and provides you with the detailed information you need to tear down and rebuild your vehicle.
Make sure that you have an ATV manual ready. You never know when you might need it. Your vehicle may break down any moment and you may be forced to fix it yourself.