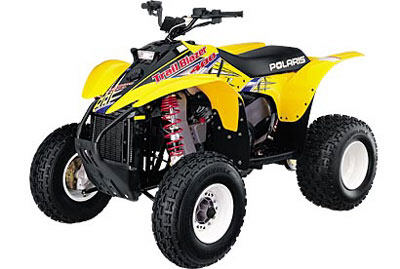 A downloadable Polaris Trail Blazer (TrailBlazer) repair manual, also termed Trail Blazer factory service manual (FSM) or Trail Blazer shop manual, is a digitally transmitted book of repair instructions that shows you how to service, maintain or fix the all-terrain vehicle (ATV) back to proper working order.
Download Manuals Available
| | |
| --- | --- |
|  Year | Model |
| 1990-1995 | All Models |
| 1996-1998 | Trail Blazer 250 |
| 1999-2000 | Trail Blazer 250 |
| 2001 | Trail Blazer 250 |
| 2002  | Trail Blazer 250 |
| 2003 | Trail Blazer 250/400 |
| 2004-2006 | Trail Blazer 250 |
| 2007 | Trail Blazer 330 |
| 2008 | Trail Blazer 330 |
| 2009 | Trail Blazer 330 |
| 2010 | Trail Blazer 330 |
A Polaris Trail Blazer repair manual covers all aspects of repair—whether you're performing periodic maintenance or overhauling the engine—the manual covers it all. It contains step-by-step procedures, easy-to-follow photographs and provides an in-depth look at specific areas of all-terrine vehicle repair.
Digitally transmitted Trail Blazer repair manuals are virtually identical to printed paperback versions. A Trail Blazer repair manual begins with a cover page followed by a chapter index page. Subsequent chapters are divided into subchapters and the subchapters outline each area of repair for the chapter.
CHAPTERS
Note: Actual chapters and sub-chapters or topics may differ depending on year and model.
General Information
Four-wheeler identification

Serial number location

All-terrine vehicle dimensions

Component specifications

Publication numbers

Paint codes

Torque specifications

Tap drill charts

Decimal equivalent chart

Unit of Measure conversion table

Glossary of terms
Engine
Torque specifications

Torque patterns

Piston identification

Accessory component removal

Engine removal and installation

Engine disassembly

Engine inspection crank endplay

Engine assembly

Oil pump end play adjustment

Oil check valve testing

Recoil disassembly and assembly

Cooling system

Cylinder and piston inspection and honing

Connecting rod and crankcase inspection

Spark plug fouling troubleshooting

Piston damage troubleshooting

Engine troubleshooting
Body And Suspension
Steering and body assembly exploded views

Torque specifications

Panel and cover removal

A-arm replacement

Concentric swing arm removal, assembly, install

Strut assembly exploded view

Ball joint and front strut replacement

Shock service

Steering post assembly

Decal replacement
Final Drive
Specifications

Torque specifications

Front hub disassembly, checking and assembly

Front hub install

Front hub exploded view

Rear axle removal, disassembly

Rear axel assembly installation

Rear housing removal and disassembly

Rear housing install

Rear axle exploded view
Transmission Service
Torque specifications

Transmission removal and install

Transmission disassembly and assembly

Troubleshooting

Transmission exploded view
Brakes
System specifications

Torque specifications

Troubleshooting

Hydraulic brake system overview

Brake system main components

Dual hydraulic caliper bleeding

Brake fluid bleeding procedures

Brake fluid replacement

Master cylinder disassembly and assembly

Master cylinder install

Front and rear brake pad removal

Front and rear brake pad install

Front and rear disc check, removal and replace

Front and rear caliper removal, check, install

Front and rear caliper exploded view

Rear dis inspection

Rear caliper assembly

Troubleshooting
Maintenance
Periodic maintenance schedules

Pre-ride check

Maintenance and lubrication charts

Transmission lubrication

Throttle and carb adjustments

Throttle linkage adjustment

Adjusting oil pump, bleeding and filter

Fuel system maintenance

Compression testing

Battery maintenance

Electrical maintenance

Air filter service

Recoil housing

Toe alignment and steering

Exhaust system maintenance

Brake system servicing

Sprocket and drive chain service

Suspension service

Wheel removal and installation

Tire inspection
Fuel System
Fuel system and oil tank exploded view

Carburetor exploded view

Carburetor system information

Carburetor jetting chart

Air screw adjustment

Carb circuit operation

Car bent systems

Float height adjustment

Needle and sea leakage test

Pilot Jet and main jet part numbers

Fuel flow diagram

Troubleshooting
Clutch/PVT System
Component specifications

Torque specifications

System overview

Maintenance and inspection

Drying

Overheating

Disassembly

Assembly

Sealing and ducting components

Drive clutch spring specs

Shift weights

Drive clutch removal, disassembly

Drive clutch checking and assembly

Drive belt tension

Drive belt removal, checking and installation

Clutch alignment and offset

Drive clutch busing service

Driven clutch disassembly, check and assembly

Driven clutch busing service

Driven/drive clutch exploded view

Troubleshooting
Electrical
Crankshaft degree to position conversion

Timing check and timing curve

Transmission gear position switch

Speed limit spec and troubleshooting

Rever limit system diagram

Electronic throttle control system overview

Flywheel identification

Ignition components exploded view

Ignition troubleshooting

CDI output test peak reading meter

Charging system testing

Alternator output test

Battery initial service

Headlamp and headlight adjust

Taillight and indicator lamp replacement

Oil level sensor and switch testing

Headlamp and brake light switch

Starter system troubleshooting

Starter motor service

Starter drive

Wiring diagrams
Repair procedures outlined in this Trail Blazer repair manual provide a detailed series of actions the mechanic should conduct when performing service or repair; e.g. component testing, part removal, disassembly, cleaning, inspection, reassembly and installation.