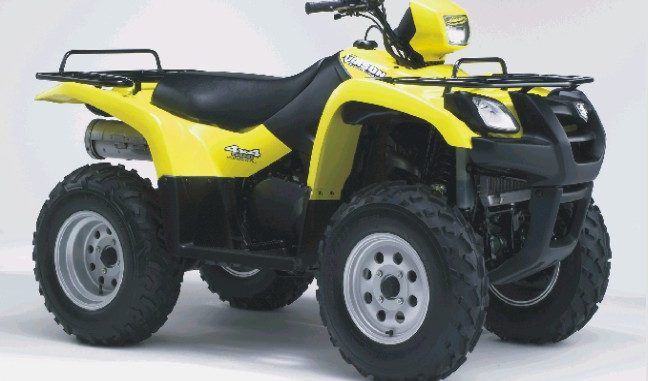 Download Suzuki Vinson LT-A500F ATV repair manual instantly. Downloadable Suzuki Vinson 500 online factory service manuals are digitally transmitted repair books developed and published by Suzuki Motor Corporation so that dealer technicians and certified Suzuki all-terrine mechanics can perform service, maintenance and repairs to their products.
Suzuki factory repair guides cover every aspect of maintenance and repair. It can teach you how to change a tire, tune a carburetor or completely rebuild the motor. It also contains a troubleshooting guide, critical specifications, diagrams, schematics and photos to ensure the person performing the repairs completes the repair work successfully. Here's a list of topics found in a Suzuki four-wheeler repair manual (actual subjects may differ depending on year and model):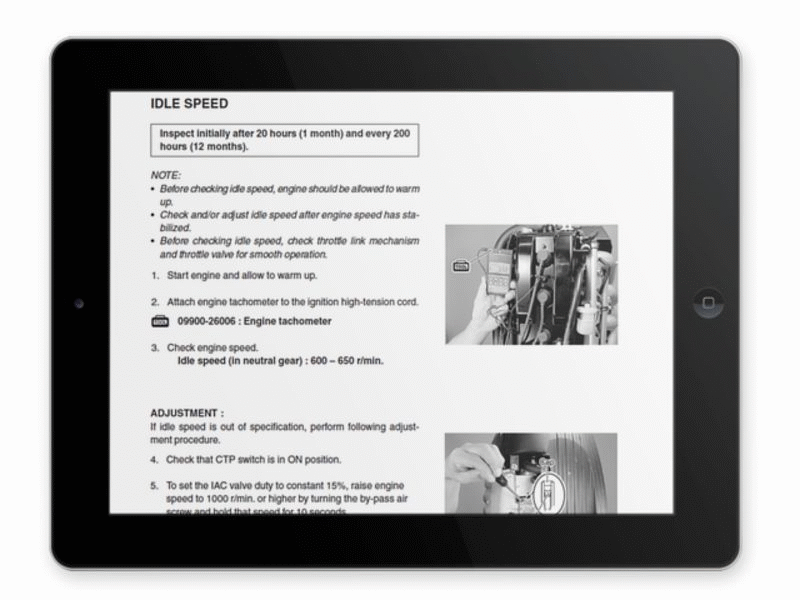 General Information
General precautions
Serial number locations
Oil and fuel recommendations

Fuel
Engine oil
Front and rear drive gear oil
Brake fluid

Break-in procedures
Information tables
Vehicle specifications
Engine
Engine removal and installation

Engine removal
Engine instillation

Engine disassembly

Engine top end
Engine bottom end
Engine components inspection and servicing
Cylinder head
Cylinder head cover
Cam chain tension adjuster
Camshaft
Conrod/crankshaft
Clutch
Piston
Drive belt
Transfer
Oil pump
Crankshaft
Gearshift cam
Shift fork
Drive train
Recoil starter
Generator cover
Drive belt cover

Engine reassembly

Engine top side
Engine bottom side
Fuel System
Fuel tank

Fuel line inspection
Removal
Installation

Fuel valve

Fuel valve removal and inspection
Fuel strainer
Reinstallation

Fuel level gauge

Fuel level gauge removal and inspection
Fuel level gauge reinstallation

Carburetor

Carburetor specifications
Carburetor I.D. No. location
Carburetor removal and disassembly
Carburetor inspection and reassembly
Carburetor installation and tune-up
Chassis
Exterior parts
Front and rear wheels
Tires
Front drive shaft

Front drive shaft removal and inspection
Front drive shaft assembly and remounting

Front and rear brake

Brake pad replacement
Brake fluid replacement
Brake caliper removal and disassembly
Brake disc removal and disassembly
Master cylinder removal and installation

Front and rear suspension

Front/rear suspension removal and disassembly
Front/rear suspension inspection and install

Steering

Steering removal, disassembly and install
Toe-in adjustment

Rear axle

Rear axle removal and disassembly
Rear axle inspection and reassembly
Rear axle installation

Gear shift lever

Gear shift lever removal and disassembly
Gear shift lever inspection and remounting

Cables

Cables installation
Cabler play adjustment
Servicing
Troubleshooting

Engine will not start
Engine stalls easily
Engine is noisy
Engine idles poorly
Engine runs poorly in high-speed range
Exhaust smoke dirty or thick
Engine lacks power
Engine overheats
Drive Train
Transfer will not shift
Slipping clutch
Carburetor
Idling or low speed trouble
Starting difficulty
Chassis
Brakes
Radiator (cooling sytem)
Electrical
Battery

Wring diagram
Wiring harnesses, cable and hose routing

Wring harness routing
Cable routing
Rear brake house routing
Front brake house routing
Carburetor hose routing

Special tools
Tightening torque

Engine
Differential
Chassis
Tightening torque chart

Service data
Periodic Maintenance
Periodic maintenance schedule

Periodic maintenance chart

Maintenance and tune-up procedures

Air cleaner
Valve clearance
Exhaust pipe nuts and muffler bolts
Fuel hose
Spark plug
Engine idle speed
Throttle cable play
Engine oil and oil filter
Clutch
Spark arrester
Differential gear and final bevel gear oil
Brake hoses
Brake fluid
Brakes
Tires
Steering
Suspension
Chassis nuts and bolts
General lubrication

Compression pressure check

Compression test procedure

Oil Pressure check

Oil pressure test procedures
Drive Train
Front driving system

Front drive differential removal and disassembly
Front drive differential inspection and reassembly
Front drive differential installation
Shim adjustment
Reassembly information

Rear driving system

Rear drive removal and disassembly
Rear drive inspection and reassembly
Rear drive installation
Shim adjustment
Cooling And Lubrication System
Engine coolant

Cooling circuit
Cooling circuit inspection
Cylinder head cooling system chart
Engine lubrication system chart

Radiator and hoses

Radiator removal and installation
Radiator reservoir tank
Radiator cleaning and inspection
Radiator hose inspection

Oil cooler and oil hoses

Oil cooler and oil hose removal 
Oil hose/oil pipe inspection
Oil cooler and oil hose instillation

Cooling fan

Cooling fan removal and inspection
Cooling fan instillation
Cooling fan thermo-switch
Removal and inspection
Instillation

Engine coolant temperature switch

Coolant temperature switch removal
Temperature switch inspection and install

Thermostat

Thermostat removal and inspection
Thermostat install

Water pump

Removal and disassembly
Inspection and assembly
Instillation

Lubrication system

Oil pressure
Oil filter
Oil strainer
Oil pump
Oil pressure regulator

Engine lubrication system chart

Engine lubrication system
Electrical System
Cautions in servicing

Connectors
Couples
Clamps
Fuses
Battery
Wring procedure
Using multi circuit tester

Location of electrical components
Charging system
Charging system troubleshooting
Starter system

Starter relay
Neutral relay inspection
Starter/Ignition control relay
Parking brake switch
Ignition

2WD/4WD selecting system
Speedometer
Lamps
Diode
Switches
Battery
A Suzuki LT-A500F 4X4 repair manual is obtainable instantly. It can be downloaded to a computer, tablet or smart phone. Your electronic device doesn't require any special software to download, view and save the repair manual as the manual is in simple Portable Document Format (PDF). The repair manual appears just like a printed book you'd obtain in a store. You can get one from this website instantly!