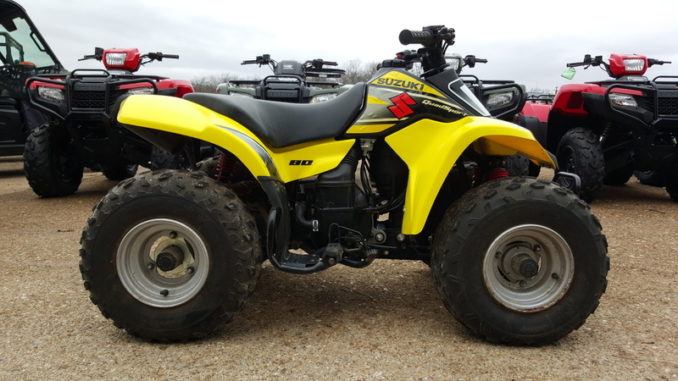 Suzuki LT80 repair manual, also termed Suzuki 80 service manual or shop manual, is a technical handbook containing service and repair information on how to keep the all-terrine vehicle working properly. It's a repair book that is published by the vehicle manufacturer and written for professional and do-it-yourself mechanics. It covers every aspect of maintenance and repair.
Aside from containing critical part specifications and step-by-step repair procedures, a Suzuki LT-80 four-runner repair manual also contains part schematics, pictures and diagrams to aid the mechanic during the repair job.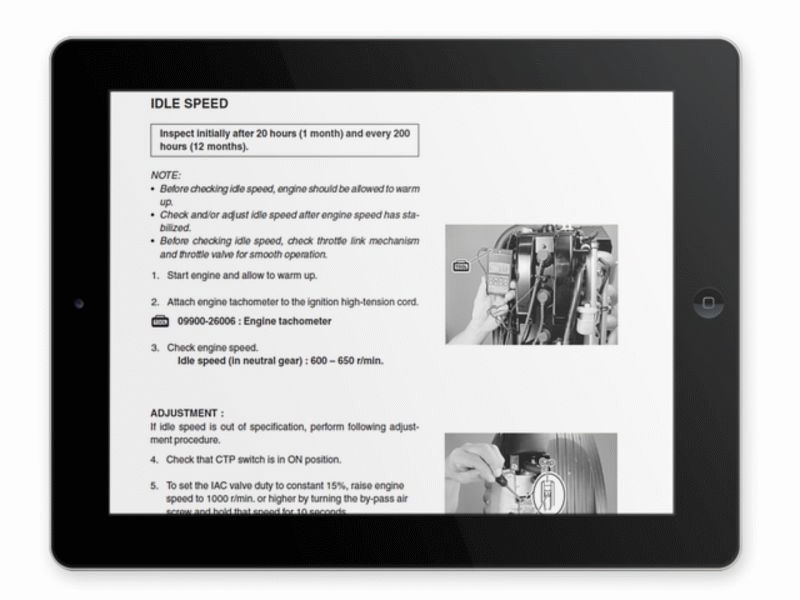 What information can be found in a Suzuki 80 repair manual?
As mentioned, a Suzuki 80 ATV repair manual covers every aspect of repair—whether changing the gear oil, rebuilding the carburetor or completely overhauling the engine—a repair manual covers it all. Here's a list of chapters and topics covered in a repair manual:
General Information
Vin and serial number locations

Component specifications

Oil and fuel recommendations

General instructions and precautions

Power transmission

Forced air-cooling system
Engine Servicing
Engine components removal

Engine removal

Engine disassembly

Engine reassembly

Engine components servicing and inspection

Engine component reinstallation
Fuel And Lubrication System
Fuel cock and fuel tank

Carburetor

Carburetor removal

Carburetor diagrams

Carburetor settings and adjustments

I.D. No. location

Carburetor disassembly

Needle valve inspection

Diagnosis of carburetor

Mixture adjustment

Oil pump

Air bleeding

Checking oil pump
Chassis
Front/rear wheel removal, disassembly

Front/rear wheel inspection

Front/rear wheel reassembly and remounting

Tire and wheel removal, disassembly

Tire and wheel reassembly

Front/rear brake removal, disassembly

Front brake inspection, reassembly, install

Steering and front/rear suspension removal

Steering and front/rear suspension disassembly

Steering and front/rear suspension installation

Front chassis reassembly

Front axle housing reassembly

Front fender and rear fender

Brake pedal reassembly
Maintenance And Tune-Up
Periodic maintenance schedule

Lubrication points

Battery

Air cleaner

Exhaust pipe nuts and cylinder head nuts

Spark plug

Engine idle speed

Fuel line

Throttle cable

Gear oil

Brakes

Drive chain

Tires

Suspension

Steering

Chassis bolts and nuts

General lubrication
Electrical system
Ignition system

CDI and ignition coil inspection

Stator coil

Charging system

Generator no-load voltage

Regulator and rectifier

Stator coil

Starter system

Starter motor removal and disassembly

Starter motor inspection

Starter relay inspection

Battery specifications

Initial charging

Servicing

Recharging battery

Switches inspection
Servicing Information
Troubleshooting guides

Wiring diagrams

Harness routing

Hose routing

Magneto lead wire routing

Cable routing

Fuel hose routing

Special tools

Tightening torque data

Service data

Engine data

Chassis data
Download a repair manual instantly!
Download a Suzuki LT80 QuadSport repair manual straight to your computer in seconds! A downloadable Suzuki repair manual is transferable via Internet and immediately available for viewing. Once downloaded it can stored on your computer or tablet forever. Just click on the download and start fixing your problems, it's that simple.
What does a Suzuki 80 four-wheeler repair manual look like anyway? The repair manual looks exactly like a repair book you'd obtain from a bookstore. Except the book is in digital format and delivered directly to your electronic device in PDF (Portable Document Format).
A PDF is a file format developed by Adobe Systems in 1992. The file format provides electronic images, graphics and text that looks like a printed book. No special software is needed to download, view and save the manual as all modern devices are preinstalled by the manufacturer with the necessary software. Download a manual instantly—fix your problems.