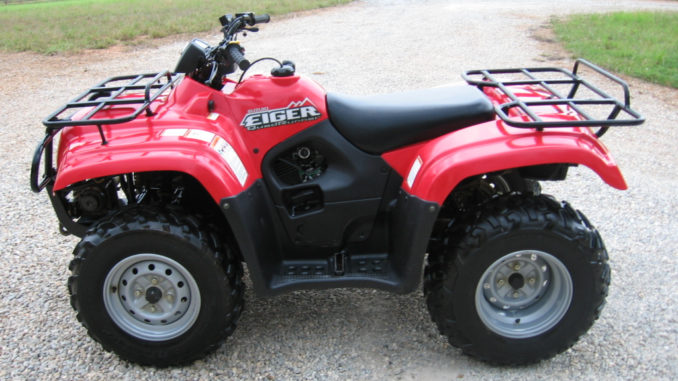 A downloadable Suzuki Eiger 400 (LT-F400/400F) repair manual, also termed online service manual, is a digitally delivered handbook containing an introductory description and procedures for its service, inspection, troubleshooting and overhaul of its main components.
The instant download book covers every aspect of service and repair—whether adjusting the engine idle speed, changing the brakes or rebuilding the engine—a downloadable repair manual covers it all.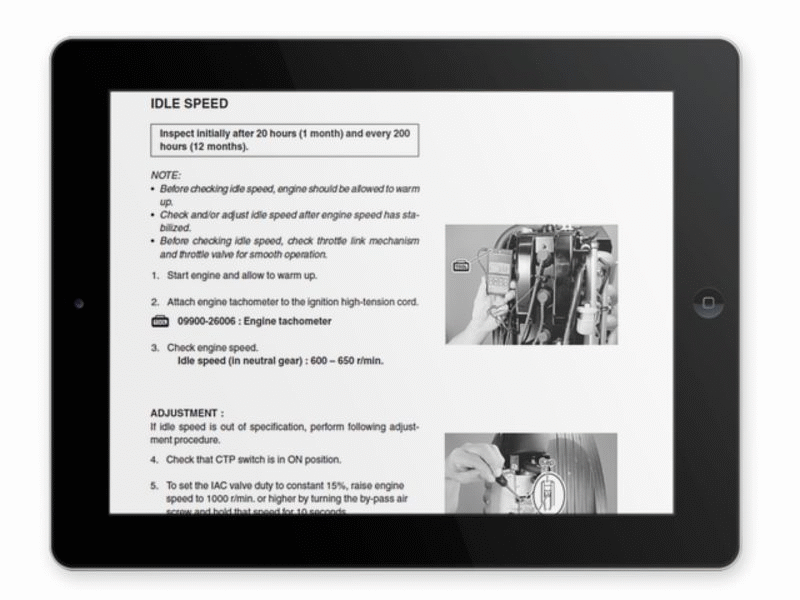 What's the difference between downloadable and paperback books?
A downloadable repair manual is an instructional booklet in portable document format (PDF), which is a file format that has captured all the elements of a paperback book that you'd typically see in a bookstore. It's virtually identical to a printed book, except a download repair manual is in digital format and can be electronically transmitted by way of the Internet.
Download repair manuals can be downloaded to a smartphone, tablet, laptop or desktop computer. There is no special software needed to download, view and save the repair manual to your electronic device, as all modern smartphones tablets and computers come preinstalled with the necessary software. However, for best viewing it's better to download the manual to a tablet, laptop, desktop or E-reader rather than a smartphone.
What type service and repair procedures are covered in the manual?
A Suzuki Eiger all-terrine vehicle repair manual contains the latest specifications at the time of publication. Illustrations and pictures are provided to show the basic principles of operation and to aid the mechanic performing the repair job. It includes troubleshooting guides to help trace faults within the electrical and mechanical systems.
Step-by-step part removal, disassembly, cleaning, inspection, assembly and reinstallation procedures ensure the repair work is performed precisely to factory specifications. Here's a sample of topics covered in a repair manual:
General Information
Warnings and cautions

General precautions

Serial number location

Fuel and oil recommendation

Brake-in procedures

Information labels

Specifications
Engine
Engine removal and installation

Engine disassembly

Engine components inspection and servicing

Cylinder head

Camshaft

Cylinder

Piston

Conrod/crankshaft

Cam chain tension adjuster

Transmission

Clutch

Gearshift cam

Gearshift fork

Oil pump

Crankcase

Clutch cover

Generator cover

Crankshaft

Drivetrain

Recoil starter

Shim adjustment

Engine reassembly

Troubleshooting
Oil Cooling And Lubrication
Cylinder head oil cooling circuit

Cylinder head cooling system chart

Engine lubrication system chart

Engine lubrication circuit

Oil cooler and oil hoses

Oil hose/oil pipe

Cooling fan

Cooling fan thermo-switch

Engine oil temperature switch

Oil pressure

Oil filter

Oil strainer

Oil pressure regulator

Oil jet

Oil pump

Troubleshooting
Servicing Information
Troubleshooting

Wiring diagrams

Wiring harness, cable and house routing

Special tools

Tightening torque specifications

Service data
Supplemental Manuals (Included)
2002 Models

2003 Models

2004 Models

2005 Models

2006 Models

2007 Models
Periodic Maintenance
Periodic maintenance schedule

Maintenance and tune-up procedures

Cylinder compression pressure check

Oil pressure check
Drive Train
Front driving system

Front drive (differential) removal, disassembly

Front drive (differential) inspection, reassembly

Front drive (differential) installation

Shim adjustment

Reassembly information

Rear driving system

Rear drive removal, disassembly, checking

Rear drive removal reassembly, install

Shim adjustment and reassembly info

Troubleshooting
Fuel System
Fuel tank

Fuel valve

Feel level gauge

Carburetor

Carburetor specifications

I.D. NO. location

Carburetor diagrams

Carburetor removal, disassembly

Carburetor cleaning, inspection

Carburetor reassembly, install, tune-up

Carburetor adjustment

Troubleshooting
Chassis
Exterior parts

Front and rear wheels

Tires

Front drive shaft (LT-F400F)

Front and rear brakes

Front and rear suspension

Steering

Rear axle

Gearshift lever

Cables

Troubleshooting
Electrical
Electrical connectors

Couplers

Clamps

Fuses

Semi-conductor equipped parts

Battery

Wiring procedure

Using the multi circuit tester

Charging system

Starter system

Ignition system

Speedometer

Lamps

Diode

Switches

Battery

Troubleshooting
The Suzuki Eiger repair manual is model year specific, not a generic repair manual. It contains clickable chapters allowing you to locate the repair information you need quickly. The manual can be downloaded straight to your computer or tablet instantly and saved to your device forever.